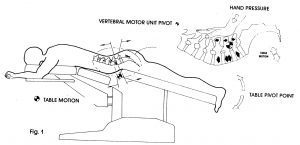 At Optimal Health Chiropractic & Sports Injury, we have a Flexion-Distraction table. How does this help you? Anyone suffering from acute or chronic low back pain may benefit from treatment using flexion-distraction.
An evidence based chiropractic solution for joint/disc related back pain. It has been shown to be effective for:
facet syndrome (inflammation or degeneration of inter-vertebral joints)
disc herniation
old laminectomy pain (previous failed back surgery)
How it works:
increases the space between joints to decrease pressure in spinal nerves
reduces the intra-discal pressure (pressure within the disc), thus decreasing the pressure on the spinal nerves
pumps fluid and nutrients back into the disc to encourage healing
Flexion Distraction Therapy is well researched, and has been proven effective. Chiropractors have been using this method for many years to manage the symptoms of sciatica and disc herniation and have saved many patients from ongoing pain management, discomfort, temporary disability and spinal surgery.
Reference:
A randomized clinical trial and subgroup analysis to compare flexion–distraction with active exercise for chronic low back pain
Maruti Ram Gudavalli, Jerrilyn A. Cambron, Marion McGregor, James Jedlicka, Michael Keenum, Alexander J. Ghanayem, Avinash G. Patwardhan
Eur Spine J. 2006 July; 15(7): 1070–1082. Published online 2005 December 8. doi: 10.1007/s00586-005-0021-8PMCID: PMC3233943