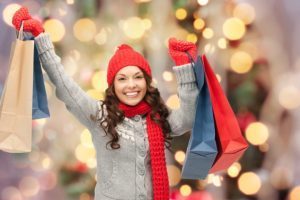 With Christmas just around the corner, it's almost time to carry all that Christmas shopping. Not to mention the dozen other chores that the festivities bring with them. Dr. Carlson would advise you, you need to take special care of your back in all the hustle and bustle of holiday season.
Today you can order just about anything online. From food to clothes to toys, it's all available on the net. Nonetheless, you will still be doing some shopping the good old fashioned way. There will be bags to carry, raw food items to get into your refrigerator etc.
Here are some chiropractic Christmas survival tips to protect your back this holiday season.
Carry the Same Amount of Weight in Both Hands – Distribute Evenly
When you have to carry two bags, try to match their weights. Both your hands should have to bear roughly the same weight. Otherwise the misbalance will put stress on your spine.
Walk at a Normal Pace
Walking slowly and dawdling is a pretty common trigger for back pain. You don't have to run, just walk at a good and consistent pace.
Make a List and Check it Twice
Before you head into town, make a list of the things you need and possible alternatives. This will help you shop quickly, without tiring you out, at least not as much.
Revisit Your Car During Shopping
You may have more than a few bags when you're Christmas shopping. Trying to carry them all at once to your car might be physically possible, but will put more stress on your back. So when you have 2-3 bags on your hands, drop them off in your car and then head back to the store/shop to continue your holiday shopping marathon.
Don't Rush
It's alright to be excited during your Christmas shopping. Just don't carry the shopping bags in a rush. Be careful, and use your legs and core muscles. And lift straight!
Don't Do These 3 Thing Together
Twist, bend and lift – don't try to do these at the same time!
Another piece of advice is to reconsider gift-giving. While Christmas gifts are one of the biggest joys of the season, you can show you care about your friends and family in other ways. If both parties agree that is!
So maybe this year you can talk to your friends and instead of each of you buying something for everyone else, maybe you can go out for better quality time. Like dinner at a fancier restaurant or some other fun activity where your money is spent on unforgettable time together for a change.
This will also make your Christmas shopping less tedious. Don't be scared to discuss the idea, your friends might be thinking the same thing!
The bottom line is whatever you do this Christmas, be mindful of your back. And if you think your back is giving you some trouble, Dr. Carlson right away. As a preventive measure, you can even get a chiropractic checkup/adjustment before the Christmas chaos begins! It will certainly help you enjoy the holidays much more.