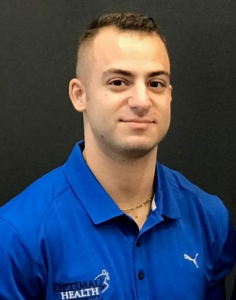 Nicholas Tagliaferro is a board certified Doctor of Chiropractic who earned his degree at New York Chiropractic College.
Dr. Nick is a former athlete who experienced sports injuries of his own, leading him to pursue his Bachelors in Health and Rehabilitation Sciences at The Ohio State University. During his time at OSU, Dr. Nick was a member of the Division I Men's Gymnastics Team for four years, where he earned athletic and academic honors.
Dr. Nick has attended seminars in Active Release Technique, Motion Palpation, Functional Range Conditioning, and Functional Movement Techniques. Using a diverse approach to treatment, Dr. Nick has worked with elite athletes to successfully improve their performance. His patients have included CrossFit and Olympic Weightlifting athletes, members of The Ohio State University Men's Gymnastics Team, Men's and Women's Track and Field Teams and the U.S. Senior Men's Gymnastics National Team.
Originally a native of Sewell, NJ, Dr. Nick is excited to be a part of the Optimal Health Team to help the people of Atlantic County attain their health goals.